Persicaria bistorta 'Superba'
$12.00
Flower:  Pink Spikes / Will Re-Bloom
Height: 2.5'  Spacing:  2'    Blooms in Late Spring
Growing Conditions:  Full Sun / Part Shade  Does well in average to wet soil.  Attracts Butterflies.
(common name Knotweed)
Out of stock
Related Products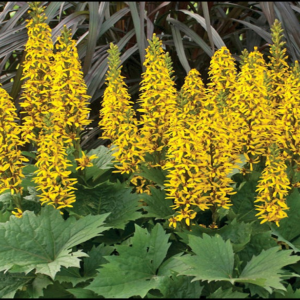 Ligularia 'Little Rocket'
Flower:  Yellow Spikes    Begins a Long Bloom Period Beginning in Mid-Summer
Mid-Summer    Height: 40"    Spacing:  24"
Growing Conditions:  Part Sun / Part Shade    Grows Well in a Wet Area
During the hottest part of the day, Ligularia foliage tends to droop as if it needs water but that it is not necessarily the case so don't be alarmed when it happens.
$

12.00
Add to cart