Celebrating Thirty Years in Bloom
---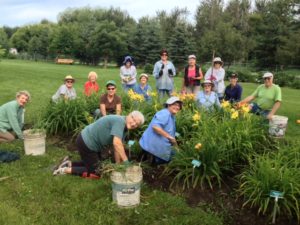 This five acre botanical garden grew from an idea conceived in 1990 by two St. Albert citizens who shared a love of horticulture. Former mayor Richard Plain and retired city landscape planner John Beedle had a vision to create a garden in an area with a zone 3 plant hardiness rating where the results of growing various trees, shrubs, perennials, and vegetables could be carried out and released to the general public. With the support of the City of St. Albert they have realized their dream. The Society of Friends for the St. Albert Botanic Park was incorporated in 1990 as a non-profit charitable organization. This body oversees the Park's development and manages its operations. The St. Albert Botanic Park was established in 1990 on property leased from the City, and groundbreaking occurred in the fall of 1992.
John Beedle and members of the Founding Board, along with local landscape architects, prepared the first plan for the Botanic Park. This concept plan outlined a series of theme gardens: shade, xeriscape, flowering trees, evergreens, and cottage-style perennial. Today these themed gardens provide the setting for displays and trials of roses, lilacs, daylilies, Asiatic lilies, peonies, and lilacs to name a few, as well as vegetables and annuals.
The Park is operated and maintained entirely by volunteers and two summer employees. The Park has grown into what it is today with time and effort donated by community members and garden lovers. Membership in the Society is open to the general public and "green thumb" skills are not a prerequisite.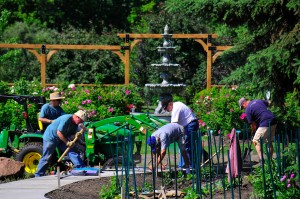 Despite being in operation for over 30 years the Park has stayed true to its origins. Founding Board members Richard Plain, Patricia Bell and Ed Toop are still active member volunteers and will willingly share stories of the Park's history. We are also honored with visits from members of the Atkinson family who owned the land that the Park is situated on between 1919 and 1954! The Park has installed a replica birdhouse of the Atkinson family's home in the same location as where their house originally stood and our Heritage Garden features plants and items from that time.
Over the years the St. Albert Botanic Park has truly become a jewel in the heart of St. Albert. Annual Park events include our Mother's Day Weekend Rose Sale, Canada Day Strawberry Tea, Garden Day in the Park and Christmas in October in the Gift Shop. The Park also hosts a number of outdoor wedding ceremonies and other special community events, and has become an increasingly popular gathering point for the general public.
Note to Visitors:  Park entrance is open year round and there is no admission charge.  No dogs are allowed and smoking and alcohol are not permitted in the gardens.  Cyclists must dismount and not ride their bikes through the Park.