When it comes to mistaken identity, the Daylily wins hands down. Not a true lily from the plant family Liliaceae or genus Lilium, the Daylily is known botanically as Hemerocallis. With each blossom only lasting one day, one would think it is not a very colourful or worthwhile plant to have in the garden. This isn't true as each flower scape can have many buds and the blooming period of this hardy perennial lasts from 4 to 8 weeks. Some varieties re-bloom providing your garden with an extended season of colour.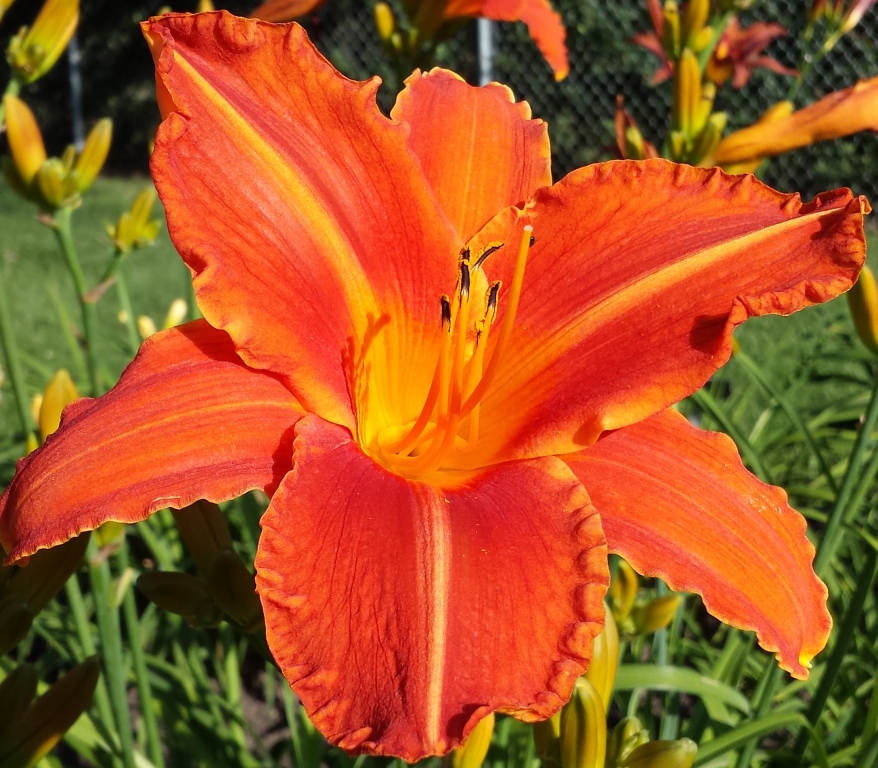 The three Daylily beds in the West Park were established in the fall of 1995 when 203 plants were donated by Patricia Bell in memory of her grandmother Pearl. She had come to Canada from the Ukraine in the early 1920's bringing seeds and small plant cuttings with her.  As with many other prairie women, she worked hard on the farm and in the gardens, raising a family in very difficult times. Pearl loved plants, the joy of seeing a seed sprout in the garden and grow is what she lived for. In particular, she loved her two Daylily plants because of their extreme hardiness and colourful blossoms that continued all summer long. The Daylily is a true representation of all of our prairie grandmothers - tough, reliable and beautiful.
Our Daylilies were carefully selected to show that there were more colours out there other than the yellow and orange species found growing wild throughout the countryside. The orange Hemerocallis fulva was known as the 'ditch lily' and can be found growing in many older neighbourhoods. The plant was freely shared when reliable plants were needed and 50 years later, they are still in their same locations. Known as the 'yellow lily' or 'lemon lily', the yellow species Hemerocallis flava was also a reliable perennial in heritage gardens. Both of these varieties have been hybridized repeatedly to bring us most of the beautiful cultivars we see today.
Other than the Rose Garden, the Daylily display was the largest planted garden in the Park at the time. Although Daylilies do not ask for much in terms of care, all plants need regular watering until fully established. Hand watering was done with buckets filled at the eastern side of the Park and driven over to the Daylily beds when volunteer help and time was available. We did test their endurance for sure yet they continued to grow and eventually flourished to become the lovely display visitors enjoy today.